How can AI be used to recruitment decision making?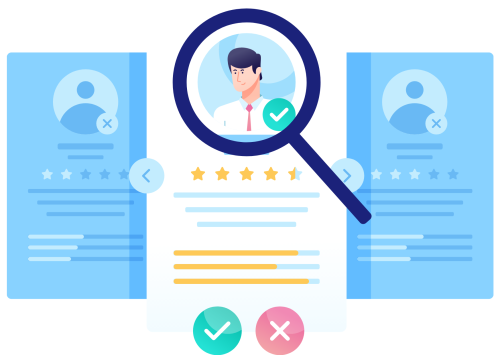 Introduction
Through our engagements as ejoobi with recruiters we met, we discovered that many recruiters face the challenge of recruiting and placing candidates for specific jobs. Because they make fast decisions while still making the right choice of candidates to fit a role. The talent recruitment space is fast-paced. There is a need to use technology to make better hiring decisions. The talent recruitment space has trended in AI technologies as part of the talent acquisition process. At ejoobi, we have built a platform that enables managers and organizations to experience the following benefits when using AI to make better placement decisions.
It reduces biases
The recruitment process is biased by nature, as recruiting people we tend to think some candidates/applicants might fit our organizational culture. And it can hamper diversity in an organization. The matching tools score candidates to the job specification and rank based on the information provided in their CVs. Candidates who are qualified for the role have a chance of making a shortlist.
It's about giving the most visibility to more candidates that wouldn't ordinarily be visible to recruiters or hiring managers.
Ordinarily, recruiters receive many CVs, and sifting through all CVs is challenging, which means they might miss ideal candidates. With AI tools hiring managers will be able to see candidates that match the job specification. Ultimately, their chances of viewing good candidates increase more than they would if they were to go through CVs manually.
Instead of focusing on the tedious recruitment tasks, they get more time to focus on placing the candidates in the right roles.
With the automation that machine learning and AI bring, hiring managers and recruiters will spend less time on repetitive administration tasks. So, they can spend time analyzing the top-ranked candidates and evaluating them to make sure that they fit the job specification.
With automation, you can generate assessments that help make more informed decisions about candidates.
With chatbot technologies plugged into communications tools, hiring managers can engage candidates before recruiters invite them for interviews. The automated screening tools enable recruiters and hiring managers to verify if applicants are ideal candidates for their job specifications. It makes it easier to narrow down possible employees from a large pool of candidates. You can reduce the number of pre-screening interviews and see candidates that match.
With AI and integration, they can get background information about a candidate before they are appointed.
Instead of doing all the interviews and having the background checks done later. In some instances, recruiters invite candidates for interviews and give them offers. When they do the background checks, criminal and credit checks, only to find those candidates have bad credit and criminal records.
Conclusion
Automation, machine learning, and AI have their place if used effectively to make decisions. AI technologies can support recruiters and reduce biases when recruiting. They can also make the recruitment process much faster. Ultimately it can ensure that all candidates get a fair chance to be selected for placement.
Book a demo to find out how you can keep your pipeline of candidates engaged via WhatsApp and SMS